LACOSTE POLO: ORIGINAL VS FAKE IN 2019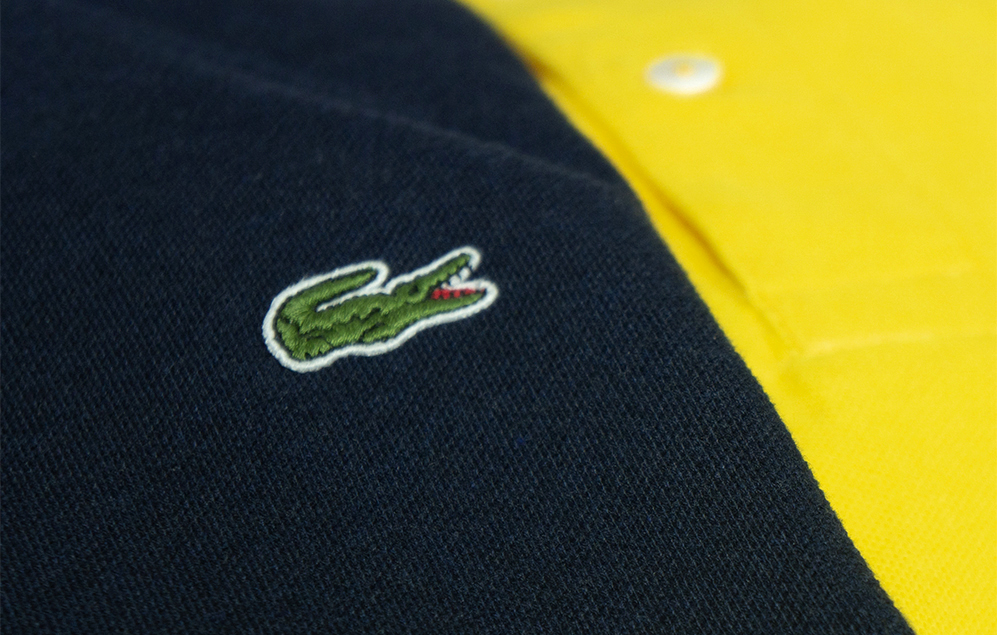 We already wrote about ways to distinguish an original Lacoste polo from a cheap fake, and we were not the only ones to do so. You can find tons of articles on that subject, but most of them contain the same information, which is just being rephrased. Therefore, to give you useful and relevant information we bought the latest collection polo in the official Lacoste shop. We also bought an imitation from a notorious market in Moscow. It is the best copy we were able to find, it was made from old models. Similar imitations are being sold in online shops that entice you with great sales and cheap prices.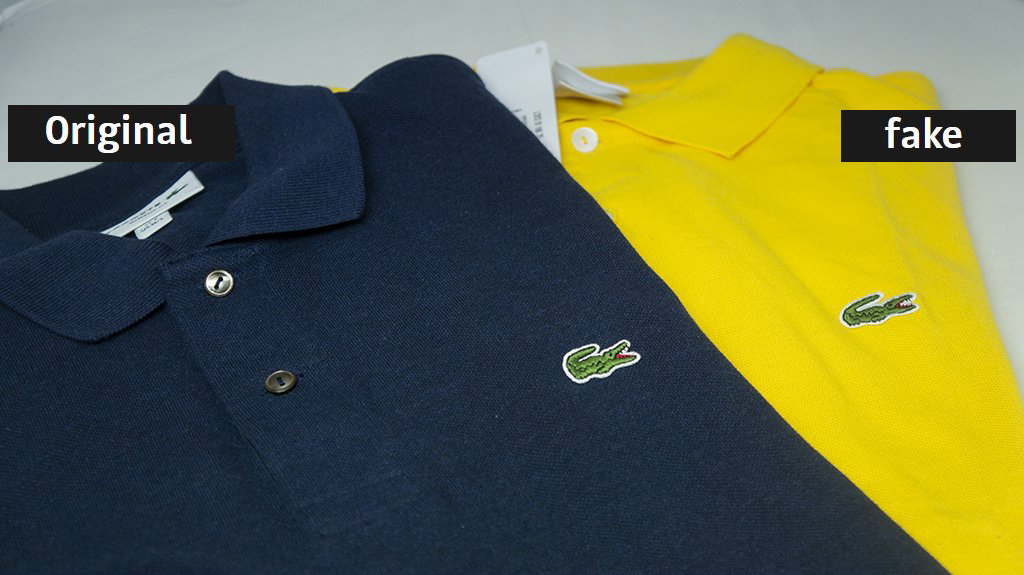 Fabrics
The fabric of the original polo is very soft to the touch and a bit silky. If you look at some light through it, you will be able to see quite wide holes.
The fabric of the copy is more thick and rough. The holes are much smaller and there is less of them – the material is not very translucent in general. We have seen many copies and imitations of different brands and most of them are made of this material.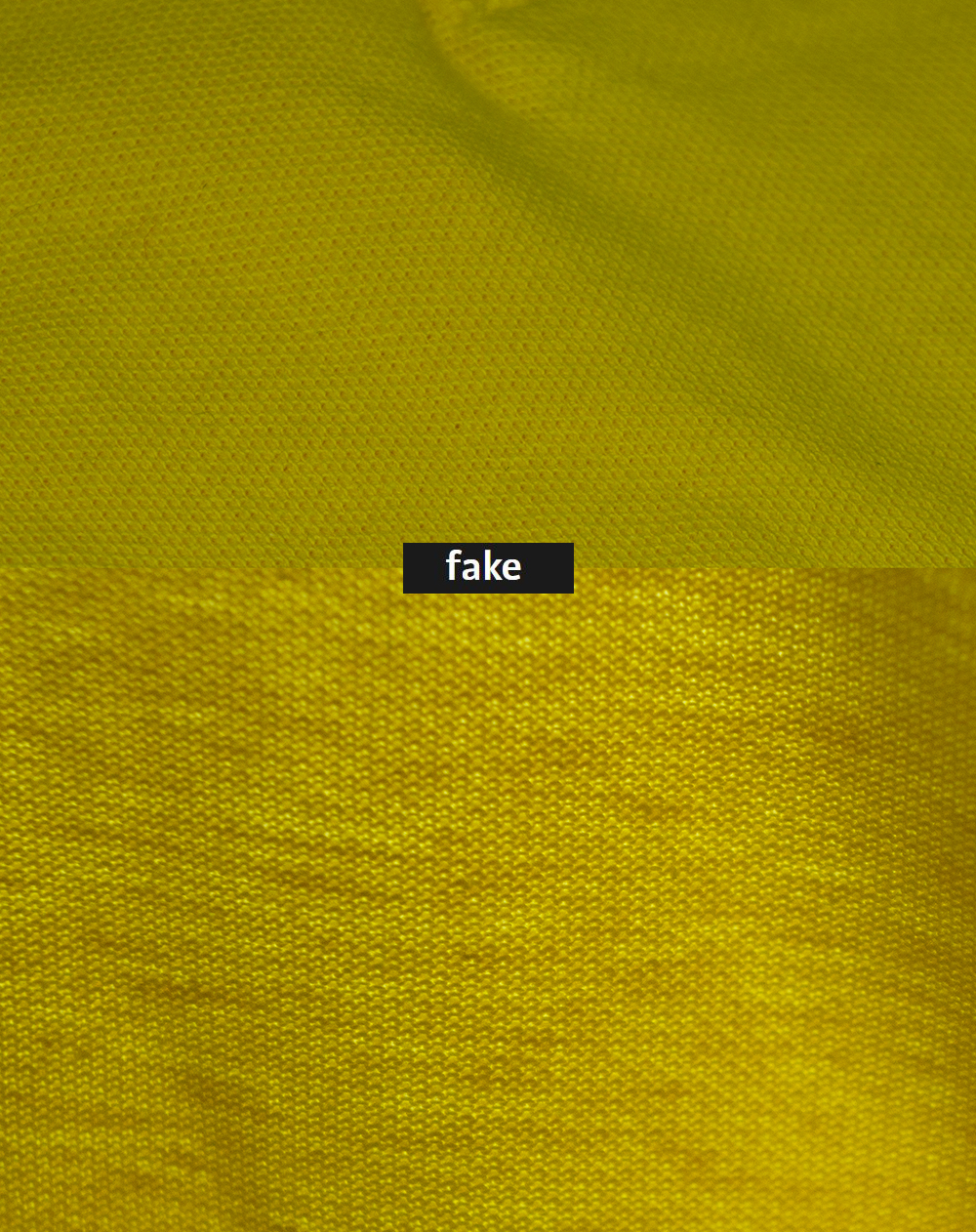 Logo
The original logo is made very carefully, all the details are precise. There are no threads sticking out anywhere, the white edging is pretty thin and it stays the same width everywhere. The crocodile tail is bent nearly in parallel with its body, interior parts of the mouth are straight. This crocodile is sewed on unnoticeably, using a thread that is absolutely invisible.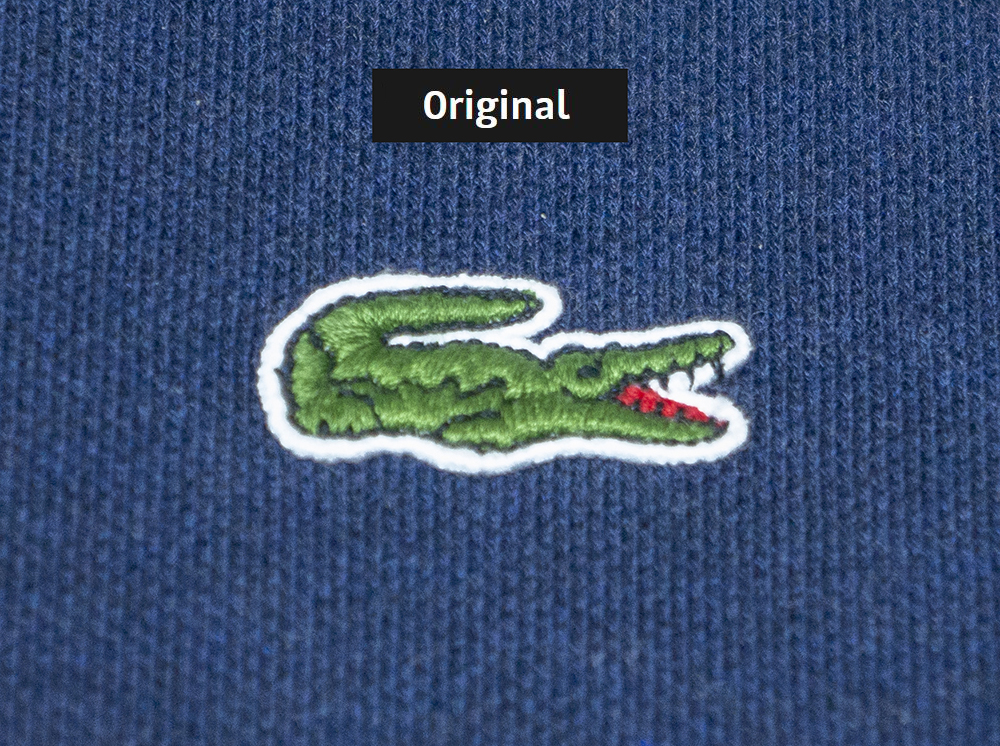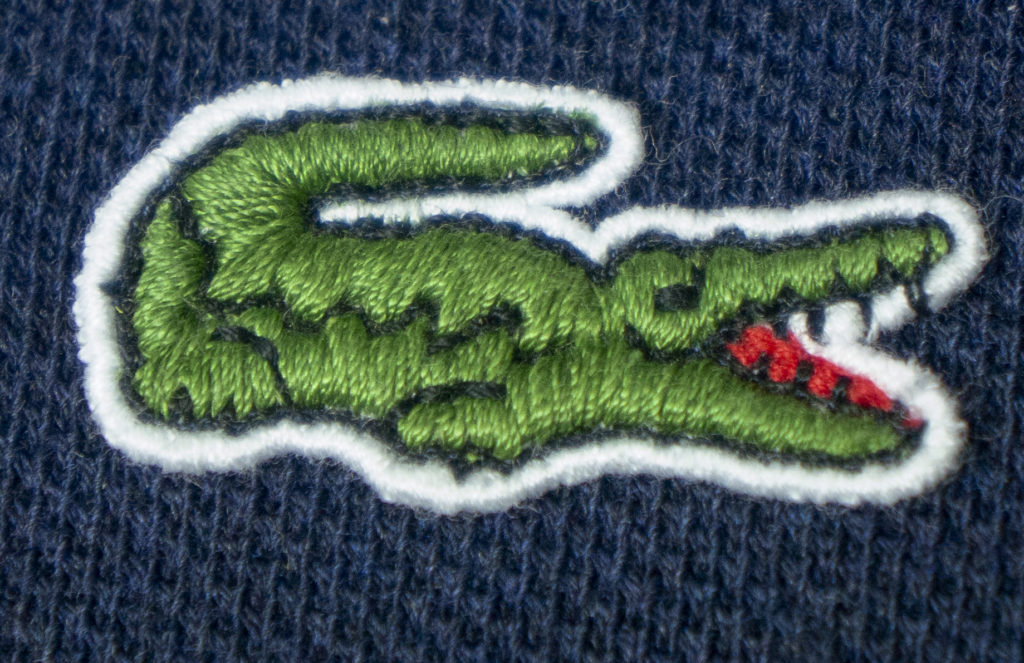 The logo is traditionally one of the weakest spots of a copy. The crocodile on it seems too thin, its mouth is not straight, the tail is raised too high, the white edging line is differs in width. And the most important part: a thread with which it is sewn can be seen.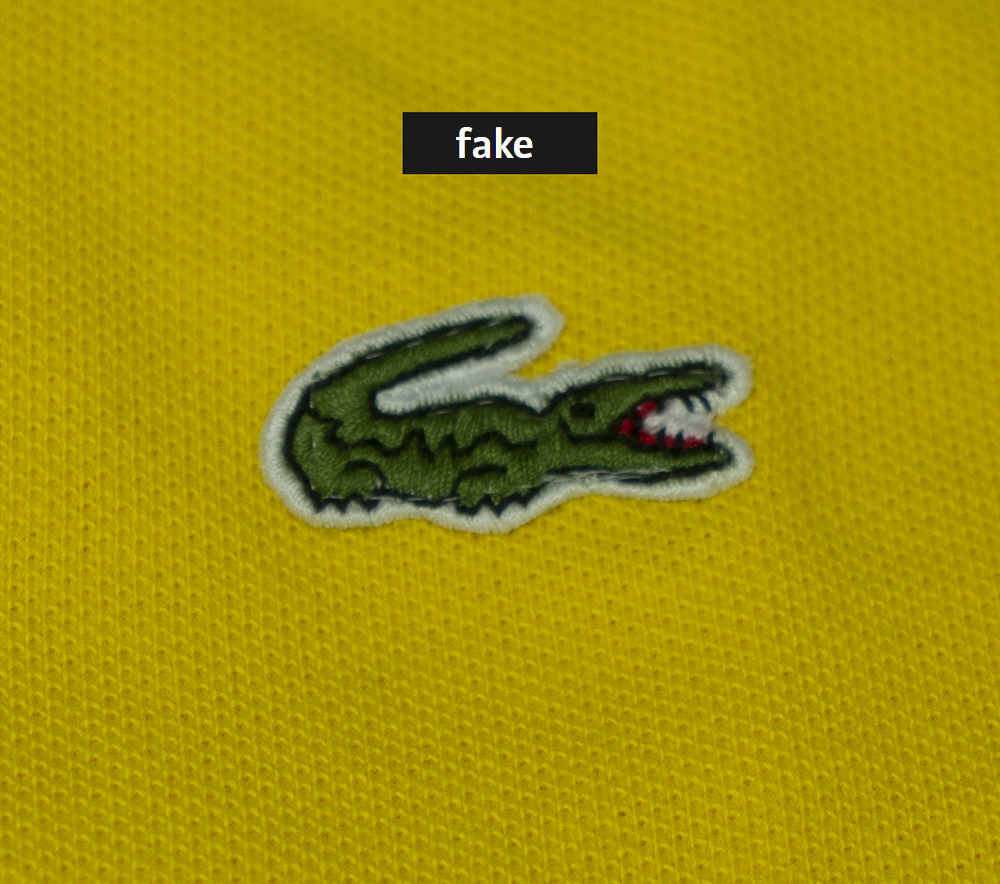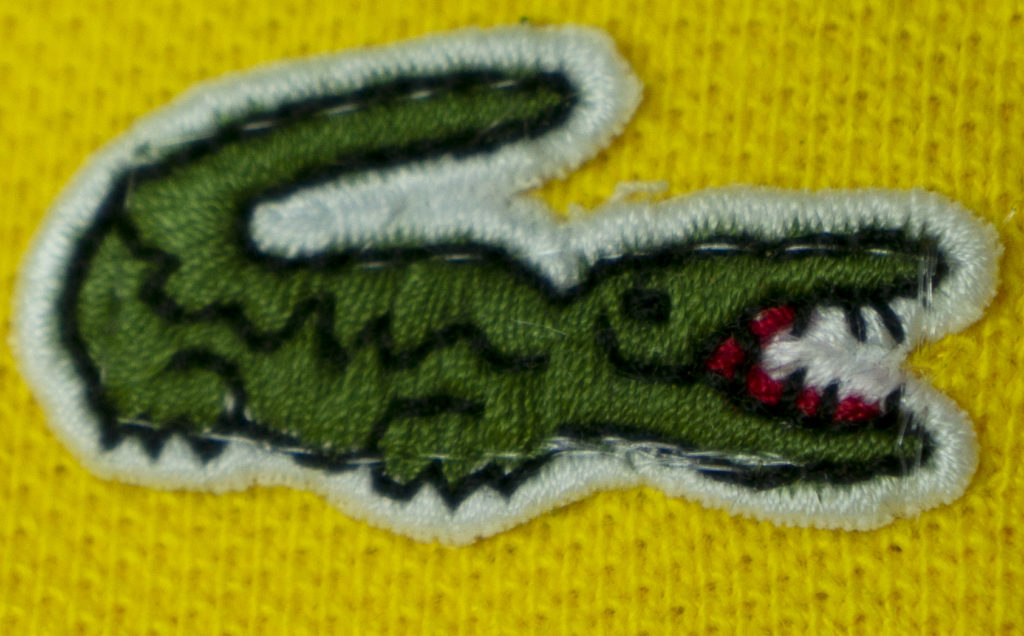 Seams and fabric processing
Pay attention to the way the sleeves are sewn. In an original polo all four seams converge in the armpits, there are no asymmetry of any kind, unlike in some imitations.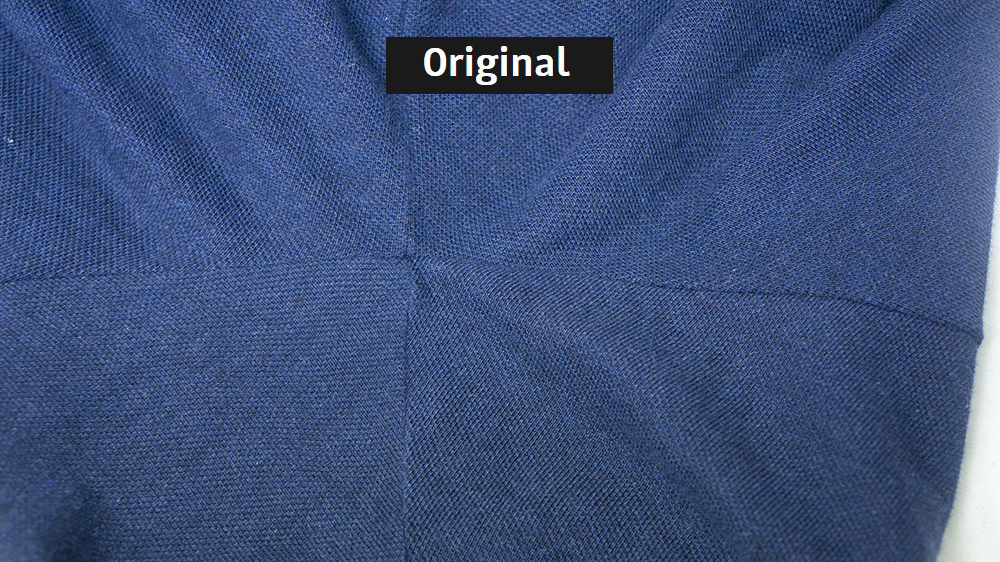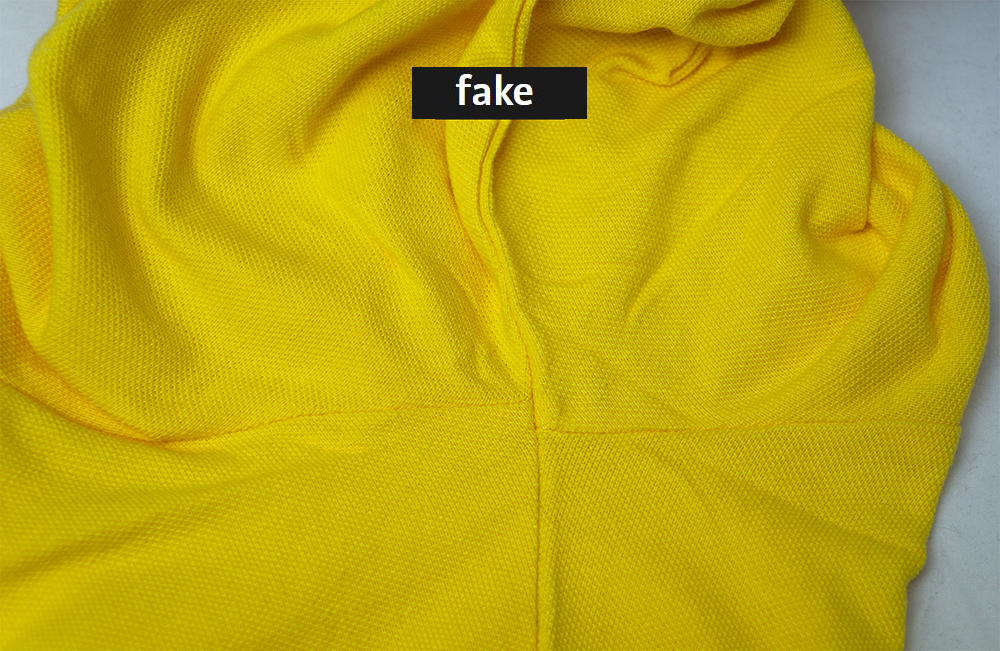 The neck seam is accurate; there is no thread ball near its end, contrary to copies. By the way, it is also important to pay close attention to the buttonholes: an original polo has neatly and carefully made buttonholes, while a copy will probably have them done not accurately. In addition to that, one of them is horizontal and the other vertical, just like in old models.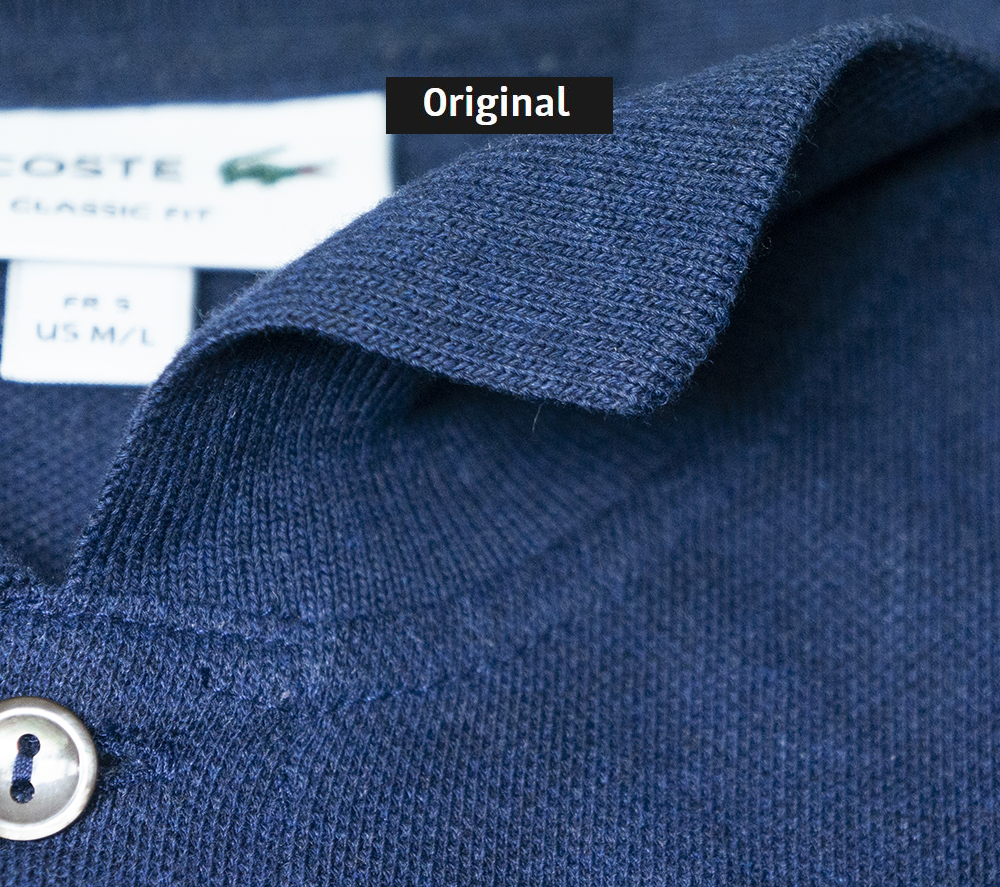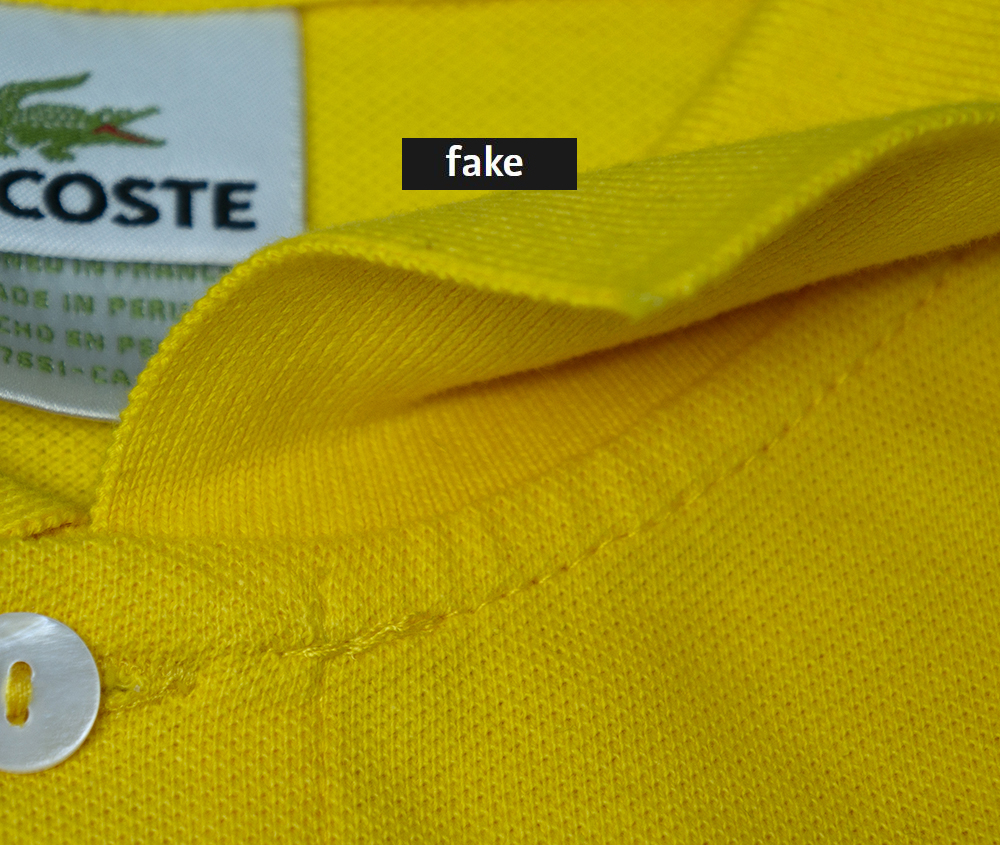 The shoulder seam is trimmed with two lines of decorative stitches on both shoulders, but a copy will have a distance between them shorter than the original 0,5cm.
The bottom of this model is trimmed traditionally, with a double seam. On a fake, however, the distance from border to the seam is smaller and the width between two decorative stitches is bigger. Not all basic models have slits on the sides, so it cannot be a sure sign of an original polo.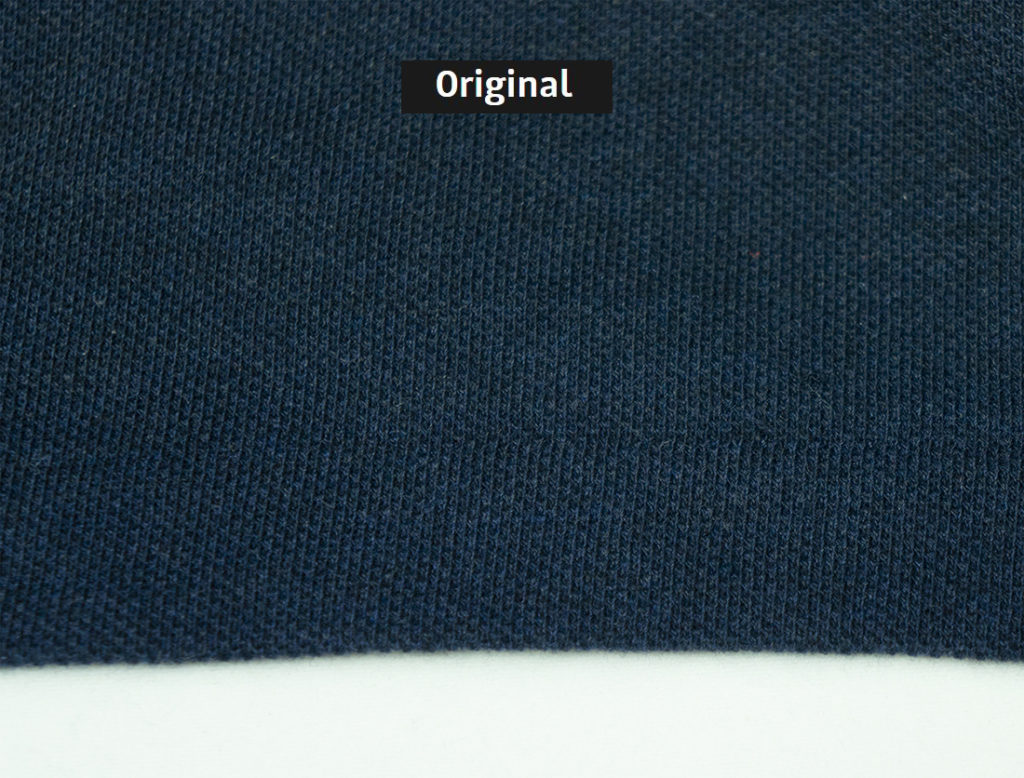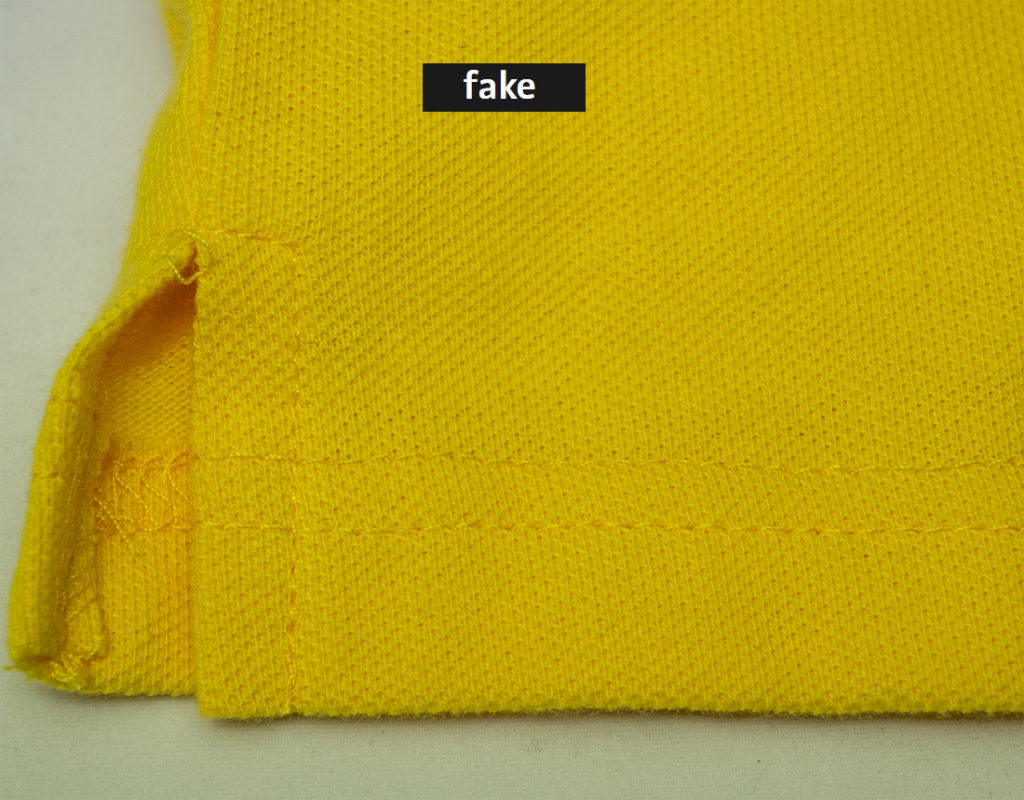 Buttons
Button colour can be different on original models, it depends on what colour is the polo itself. Darker ones have buttons of the same colour as the polo, while brighter ones have white buttons. No matter what the colour, all buttons have a pearl shine. They are all bent a bit, into a shape of a soup plate.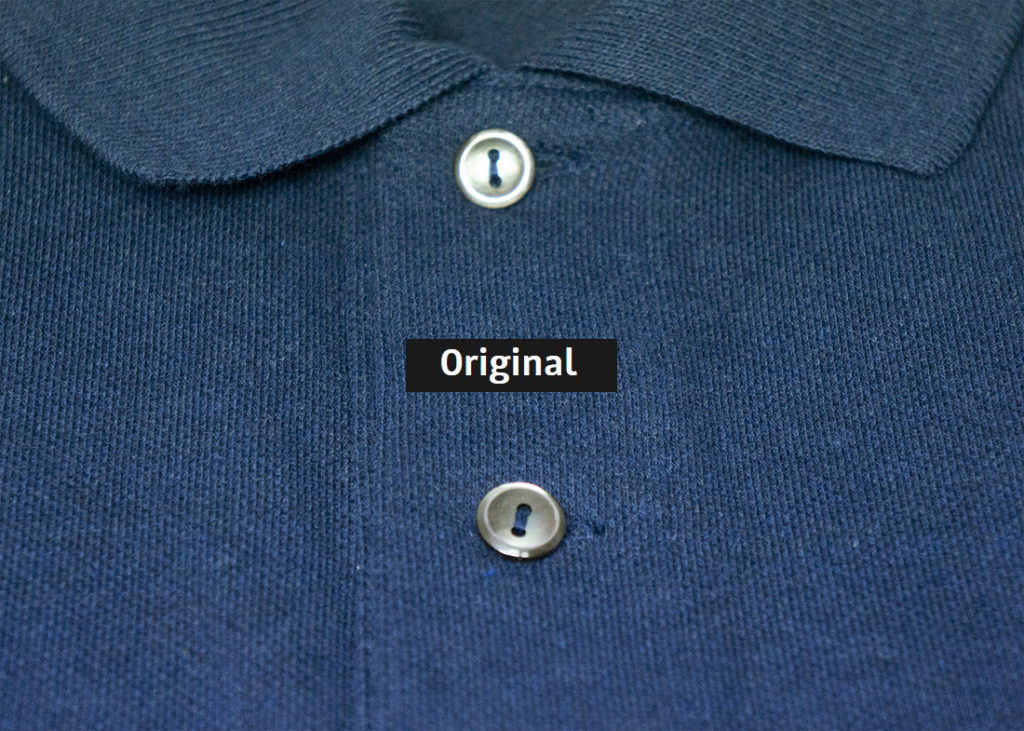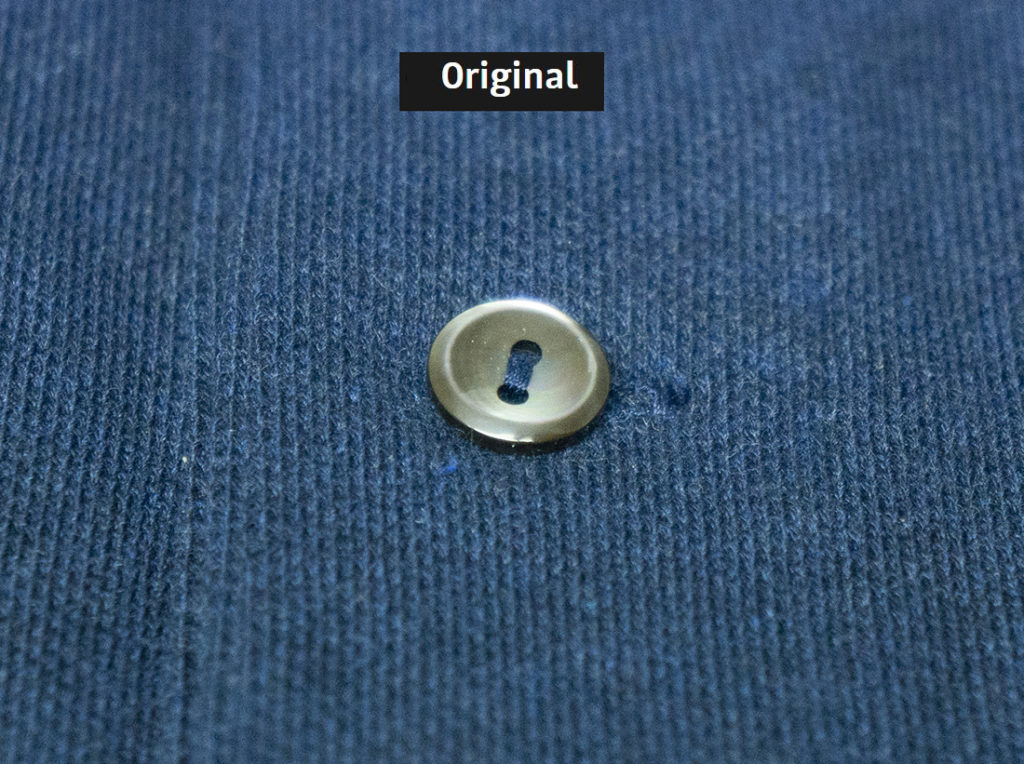 A copy has white buttons, sometimes also pearl, but they are flat, just like on previous models.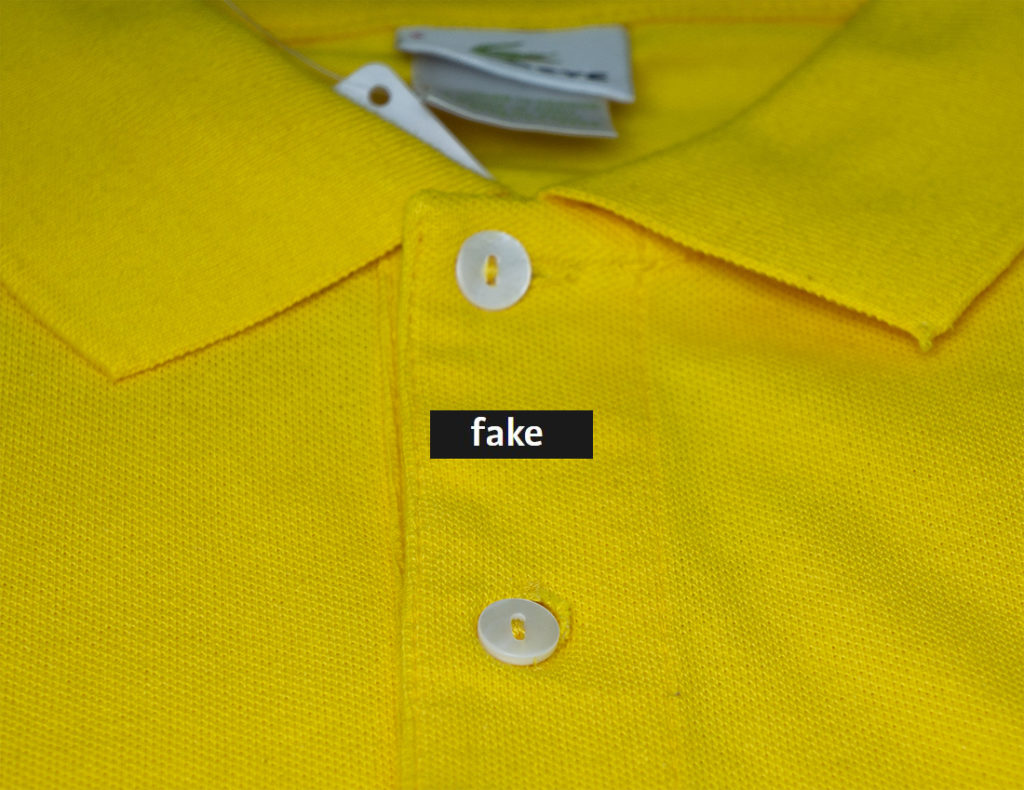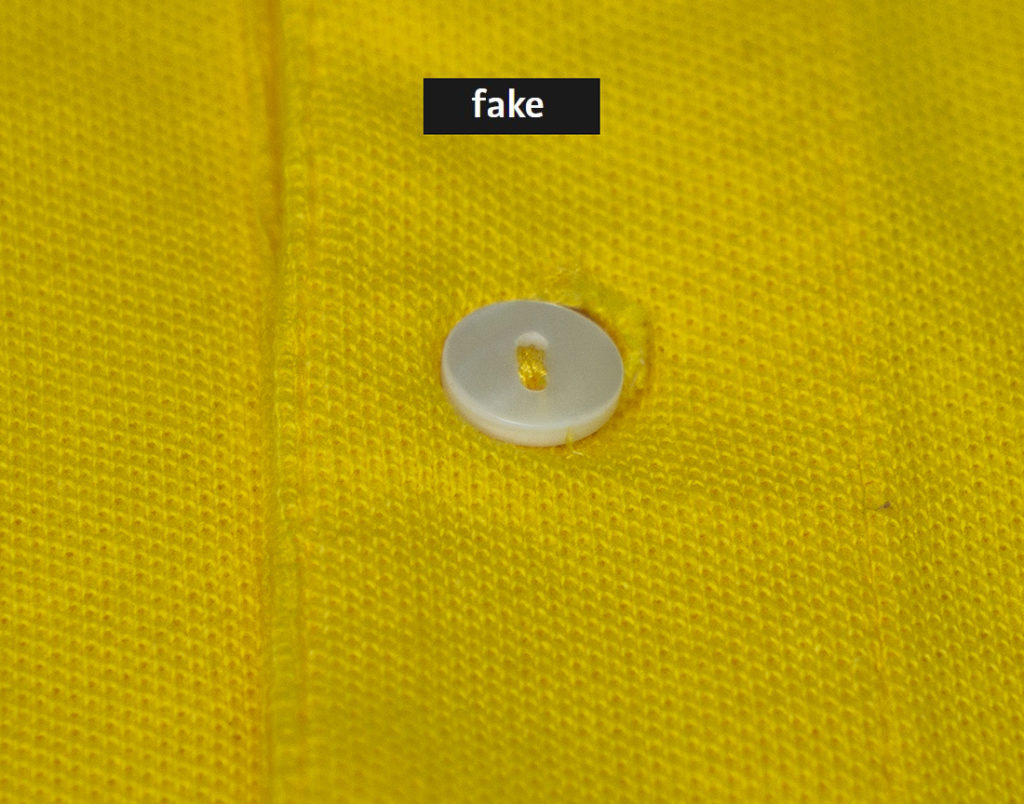 Tags
Near the neck, an original Lacoste polo has two tags: one big rectangle one with the brand name, logo and model type on it, the other one is a thin rectangle one with model size on it. There are two types of sizes written: according to the French and American size systems.
A seam on the side has a tag sewn in stating model name, contents and care recommendations. There is also a spare button sewn to this tag. Official models are manufactured in Turkey or Morocco.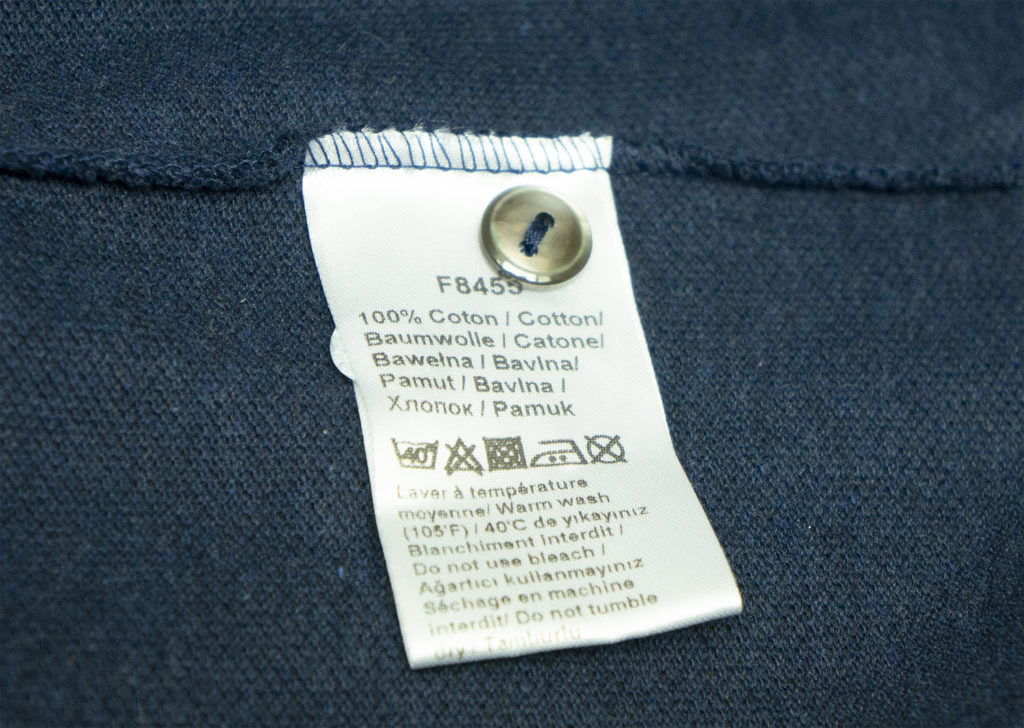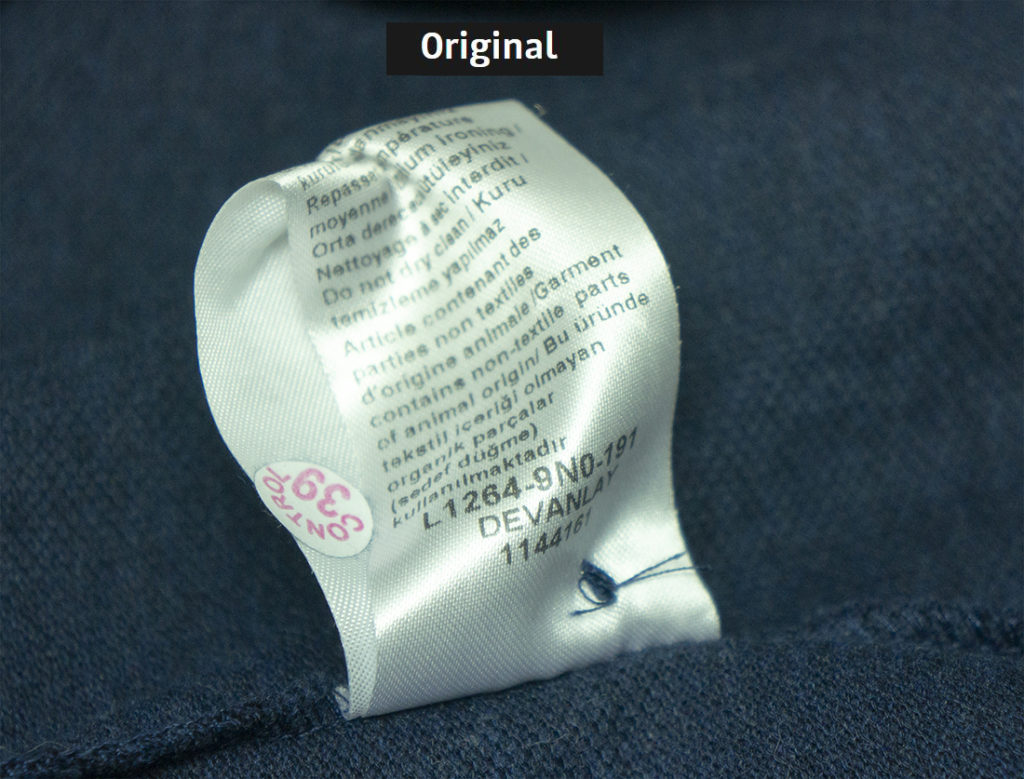 Also some of them are made in France, but in that case The cost of this polo will be from 10 000 rubles. It is also very important not to confuse the country where a polo was manufactured with the country it was developed. All the polos are, of course, developed in France and they are only being manufactured in the countries listed above. An outside cardboard tag is fastened to the neck tag using a white cloth lace with a plastic seal that has a Brand crocodile on it. Besides the brand name and logo, this tag has official website address and a sticker with a model vendor code, barcode, manufacturer country, size, cloth contents, manufacturer's company name and, obviously, the price.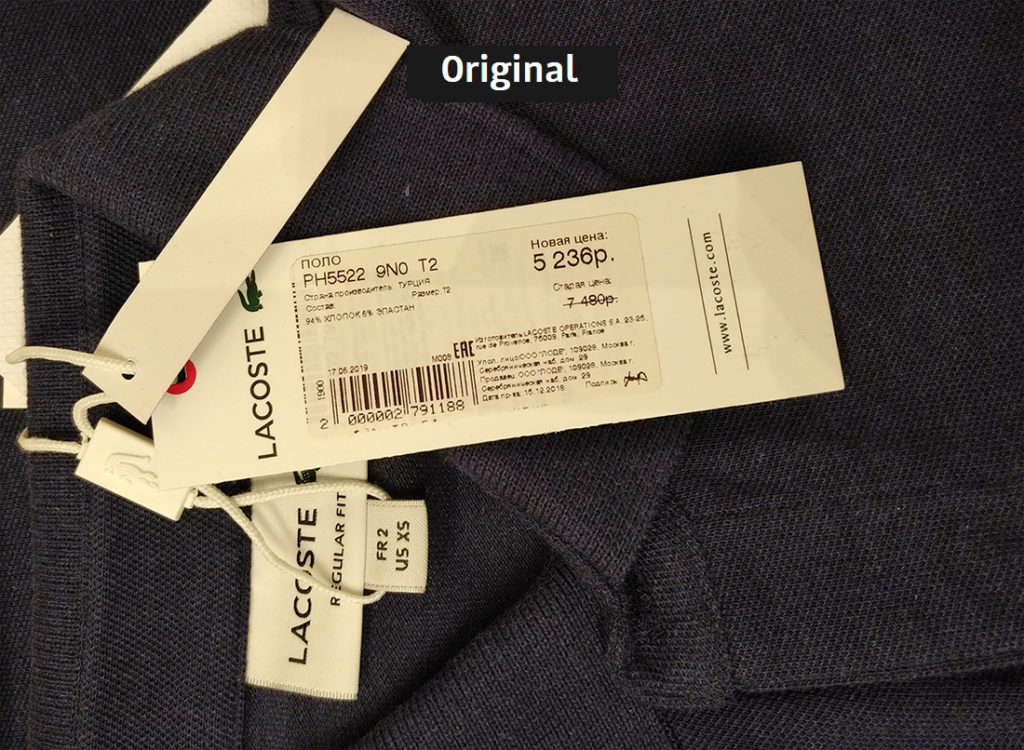 A fake tag is a different size, usually smaller, and, undoubtedly, content. Some fake tags are also copies of old model tags. An upper tag has brand name, logo and size written as a number on it. The lower tag has manufacturer's company name and vendor code. Note that this imitation states Peru as country of manufacturing.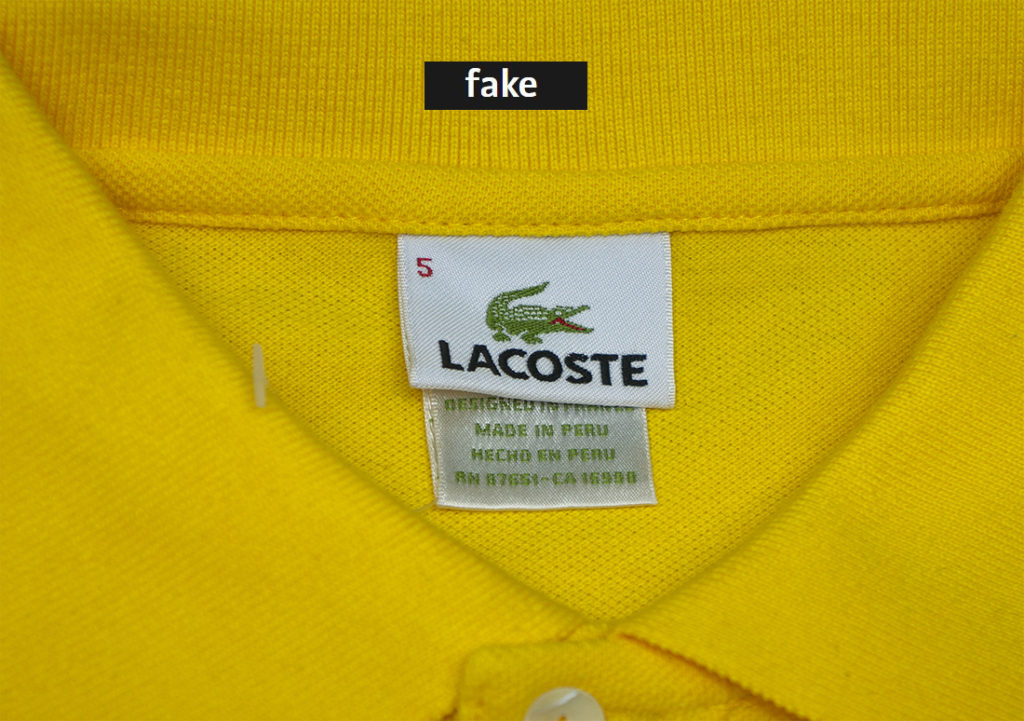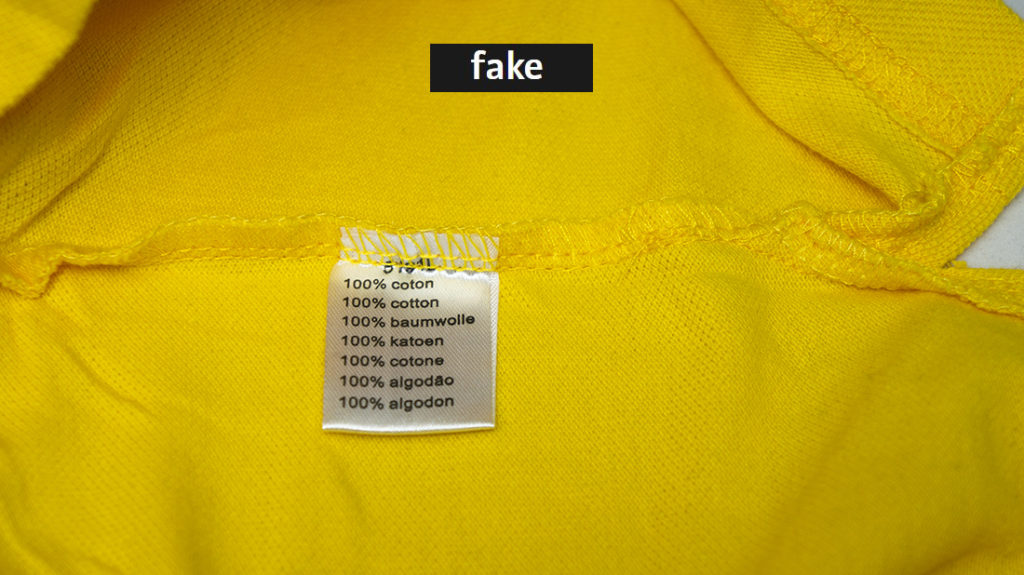 External tag is fastened to the neck tag with a plastic lace and consists of only one part. The information on it is written on both sides, while an original tag has writing on only one side. It also has vendor code, fabric contents, size and barcode. The size on it, however, may not be the same as the size on the neck, just like happened in our case.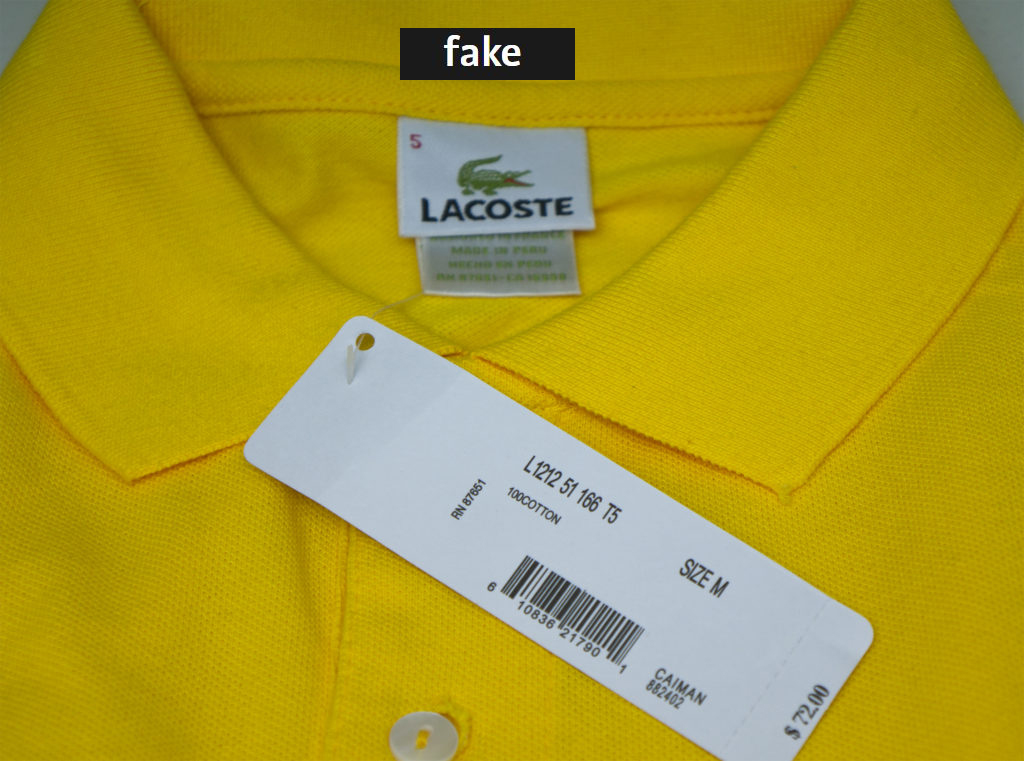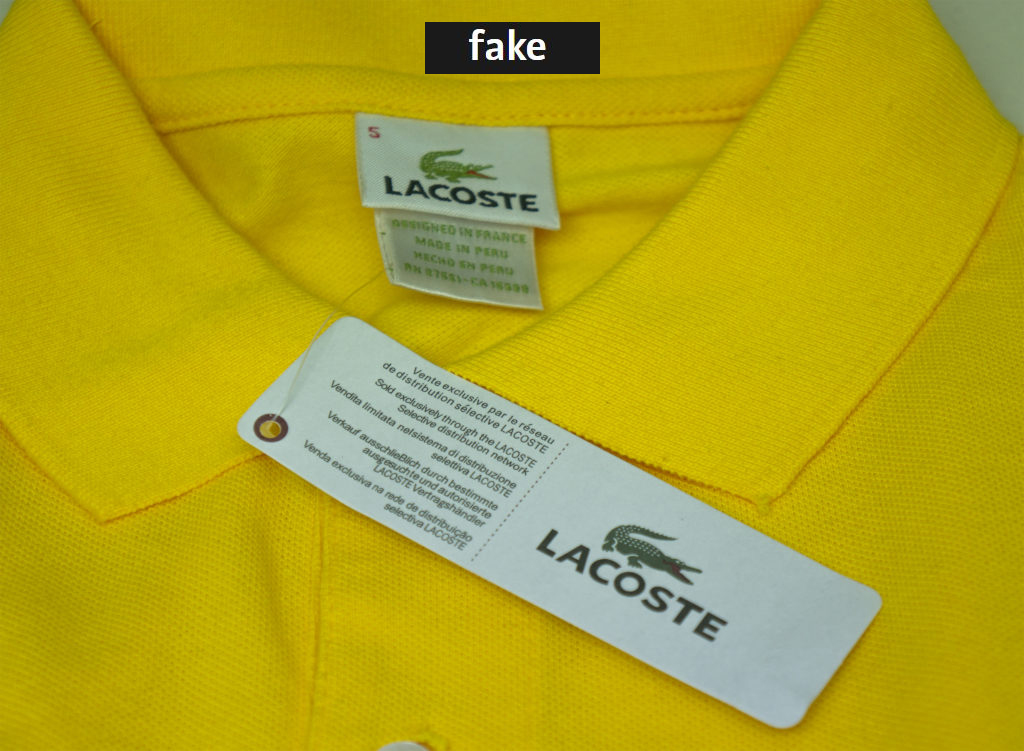 Sizes
An original Lacoste has the size written in numbers and is duplicated with a letter designation. The size chart has interjacent sizes that will help you to choose your ideal size much more accurately. Besides that, models also differ in the way they fit. There are "classic fit" models, more loose "custom fit" and narrowed "slim fit".
Copy and imitation models have the size written using a letter. Usually the sizes are inaccurate, most often the written size is 1-2 values larger than the actual one, so if the size of a Lacoste polo does not match the size that is written, it is definitely a fake.
Cost
The cost of an original polo with no discounts is 7 000 rubles, with a discount you can buy one for 4 200 rubles. There can be no sales giving a 70 or more percent discount in the official online shop. There can also not be sales like 2+1=2 (buy two, take third for free), all these sales are made by dishonest shops that sell copies. Such copies can cost from 1 400 to 2 500 rubles. We advise you to buy only originals on the official Lacoste website here.