KANKEN FJÄLLRÄVEN. HOW TO SPOT FAKE?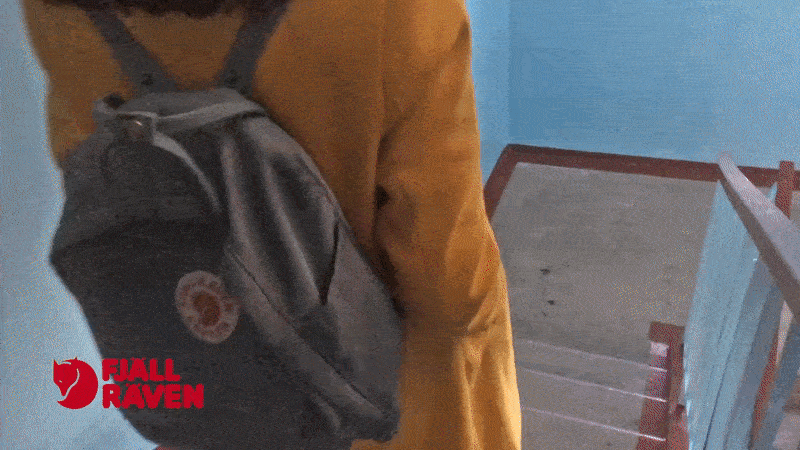 Can you imagine that before you were even born Swedish pupils used to attend their classes with the same backpacks as we can see the most modern and stylish people wear today? The Swedish "Fjällräven" brand has not lost its relevance since 1978 and is now experiencing a new popularity peak. Today we will look on its "Kanken" backpack more closely.
The brand specializes on different tourist and camping equipment and clothing, that is why even a school backpack (and it is what "Kanken" was originally conceived to be) has turned out to be so sturdy and durable, that you could easily take it into a long journey with you. This backpack is really an innovation for its time: its inventor was the first one to make a textile bag into an orthopedic backpack by using a wooden frame, opening a way for mass manufacturing of backpacks.
Today, the brand releases seven separate variations of backpacks that differ in size and design. In this article, we will talk about the most popular version – "Kanken Classic". This backpack, as most of other popular products, is often being copied and imitated by dishonest competitor companies. So, what things should you pay attention to not to buy an expensive but bad quality fake?
Wrapping.
The original backpack is wrapped into a transparent plastic bag with a sticker containing information about model name, color and barcode on it. There should be no colored or paper bags.
Some copies might also be wrapped in transparent plastic bags that look very much like original, but they do not usually have a barcode sticker on them, which is a sure sign of a fake product.
Besides that, the bags on not original backpacks might have a handle or a zip lock which is, undoubtedly, fairly convenient. Unfortunately, it is also only a sign of an imitation.
With the backpack itself there is also a leaflet with information in the wrapping. An original leaflet is accurately placed into an exterior pocket of the backpack. It is painted into bright colors and is folded fourfold. Besides good quality polygraphy it is also made of thick, good quality paper.
A fake backpack leaflet, on the other hand, just usually lies on top of the backpack in the wrapping. It is only folded in half, and its colors are much less vivid. Paper used to make it is, of course, worse quality and not that thick. However, if it is a very good, convincing copy, its manufacturers might bother and fold the leaflet fourfold, too.
2. The logo patch.
A round patch with a Fjällräven fox logo must be sewn accurately, with straight, identical stitches. The logo itself is reflective and glows in the dark, which you can easily check.
A fake logo is often sewn with not straight or different stitches; the seam might have visible knots or loops. Even an original model can have tiny defects, so the main criterion here is the reflective logo, which you cannot find on imitations.
3. Tags and labels.
The backpack has Kraft paper labels tied to it. Pay attention to the barcode sticker: an original model writing is not very big, while on a copy it is usually pretty large. In all other aspects, these labels are very similar, so it would be difficult to distinguish fake from original.
Inside the backpack you can find three little labels that are sewn into the seam, – one of them is made of cotton and the other two are synthetic. Under them, there is a narrow rectangle tag with a number and letter code on it. You should also pay attention to the place these labels are sewn to: on an original model, they are sewn into a side seam by the upper end of an interior pocket.
On copies, they are located a bit lower, so you can surely distinguish an original backpack using the location of the labels. Besides that, some low quality fakes do not have the lower tag with a code, which makes it much easier to spot such a copy.
A large tag with the brand name and logo is sewn to the upper center on an interior pocket of the backpack. It also contains a short history of the brand and a space where you can leave your contacts such as your phone number and address, so that it can be returned to you in case of loss. Under this tag, a little Swedish flag is sewn, and some copies do not have this flag.
By the way, an original Kanken backpack is made in Vietnam, not in China.
4. Zippers.
Just as all the other materials, an original backpack zips are all very good quality. They are of the most famous brand in the whole world – "YKK" (the manufacturers logo is written on the lock); the zipper locks are painted in the same color as the zipper itself. There is a Fjällräven brand logo on one side of them and its name on the other. Clasps at the bottom of shoulder straps are made of plastic and their shape is nearly square.
Our premium copy has zips that are absolutely identical to the original, even the "YKK" sign on zipper locks. The buttons on the fake and original ones are also practically identical, so this cannot really be a sign to help you distinguish a copy.
5. Odor.
An original backpack has no specific smells. A pungent odor can indicate that the fabric has been treated with a water-repellent impregnation, whereas the original is made of "Vinylon F" water-repellent fabric.
Such a smell is usually present on cheap copies.
6. Material.
Matt, thick textile looks the same on the front and back sides and holds the shape pretty well. The water resistance is easy to check – the drops remain on the surface and roll off it without being absorbed. The shoulder straps are sewn with threads that are the colour of the backpack and, of course, there are no threads sticking out or inaccurate knots.
A fake backpack fabric is smooth to the touch and pretty thin, so it does not give the impression of a good fabric to use for a backpack or bag. It does not hold the shape very well. Threads with which shoulder straps are stitched may be a darker color, although on our copy they are matched to the color of the backpack pretty well. The water-repellent quality of the fabric of a fake might seem the same at first, but you will probably notice later that even though water seems to slide off it can still get wet easily. And this means that fake product manufacturers have, undoubtedly, saved some money on the fabric and only used waterproof impregnation.
7. The inside
Inside there is one big pocket, which is located on the back side of the backpack. Inside it, there is a dark grey thing of foamed material. Its purpose is not, as you might have thought, to protect a laptop you could be carrying inside (by the way, the manufacturer advises to use their other model for that purpose – "Kanken Laptop"). This is a kind of pillow you could use during picnic or camping, which is a tribute to the brand's spirit.
You should pay attention to the quality of interior seams: lots of threads sticking out or not straight stitches are the most common and reliable ways to distinguish a fake.
Of course, threads may also stick out somewhere on an original product, but it is usually only where the stitch ends.
8. Color
This model is being released in all different colors, but a copy may have a more pale color or the color of the backpack braid may differ from the color of the main textiles color.
9. The cost
Fake backpack prices start from 2 500 rubles, an original costs 5 800 rubles.
A very low price should make you concerned. An original, good quality product cannot be very cheap (without any discounts or sales, of course). However, the price might be quite high, too and not differ much from the original, so we recommend buying only original products in official shops. This backpack you are able to buy in an official online shop here.